A merger between the Ameriprise firm in Bradford with a Pittsburgh firm won't affect Bradford area customers.
The Bradford office merged with Hodgin and Associates, an Ameriprise Private Wealth Advisory firm, in May. The new name is Hodgin, Chapman and Associates.
The local office will conduct business as usual with the same staff, which includes William Chapman. With the merger, people have wondered if Chapman is retiring. He's not.
"I love what I do and intend on doing it forever right here in Bradford," he said. "That said, we have spent the last two years studying and examining the changes occurring in the financial services profession."
In addition to the Bradford staff maintaining their same roles in the business, the office has brought on an additional associate financial advisor, Louis Sforza.
As clients' needs changed, the local firm wanted to make sure they were able to meet those needs.
"Most importantly, we have looked into the future to make sure we will be fully prepared to provide clients and their families with the best professional care possible," he explained. "To do that, we decided that we needed to grow by a merger so that we can have the talent and resources to provide clients all the elements that are relevant to them and their families."
Chapman said the Pittsburgh firm has "a 30-year history and a culture of client care and high professional ability."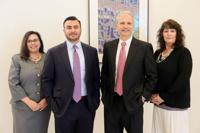 If clients notice any change, it will be that the financial firm has more resources and a better ability to meet specific needs, according to Chapman.
"In essence, we have evolved our model to add specialization so that clients will be able to not only have us as their primary advisor, but we can now introduce team specialists in areas that are necessary for specific financial needs," he explained.
Chapman said his firm started examining the financial services profession to look for ways to better serve clients amid changes to the industry.
Those changes "are many," he said. "For example, the complexities of financial planning decisions in the areas of maintaining lifestyle, preparing for retirement, integrating digital tools, a changing tax code, a changing legacy and estate planning set of rules, a country that has more debt currently than at any other time in its history, and an economic revolution evolving away from fossil fuels. These things will present extremely complex challenges in wealth management as the next decade begins to unfold in ways we would have never imagined just a few years ago."
According to Chapman, staff at the two offices will work together to provide services.
"This is a team now. This is a financial family team."
The practice advises more than half a billion dollars in client accounts, and it has offices in Bradford, Pittsburgh and New Castle.