Leanne Ford is no stranger to a challenging renovation (in fact, she describes herself as pointedly "not risk-averse"). But the one she's about to embark on in her hometown of Pittsburgh is unlike any of the many—like, very many—projects she's completed in the past. Today, the star of Restored by the Fords, Rock the Block, and Home Again With the Fords got the keys to a Sears-Roebuck Craftsman kit house, which she'll be restoring to its former glory (plus a few modern upgrades) without a camera crew—and then selling to one lucky future homeowner!
"I've always wanted to do a Sears kit house, so when we found one in my hometown I was SO excited," Ford tells House Beautiful. "It was an opportunity to bring it back to life." And although Ford is certainly more than comfortable around a camera crew, this time she won't be doing the project for a TV show—or a client—meaning she has full creative control.
"It's an opportunity to do some beautiful things for a home for a new buyer instead of a client, and to be able to do it for me," says Ford. That freedom is especially significant in a home with so much history, says the designer. "I can really do what's best for the space—not the client.
Coldwell Banker Real Estate Services
Plus, without the crunch of a TV season, Ford can focus all her energy on this restoration: "When we do the show, we're doing 7-16 houses at once," she says. "Now, I can really concentrate on this one and doing it right." But, lest you think the process will be totally shrouded in secrecy, fear not: Ford will be sharing the renovation exclusively on House Beautiful, giving behind-the-scenes looks at the process, peeks into some of the craziest DIYs (more on that in a bit), and, of course, a final reveal…in just a few months!
So, what can we expect? Well, to start, "I've been looking at the floor plans to see how true we can keep it to the original," says Ford. "We live differently and of course things will be different but its nice to have that north star."
Guided by that original Craftsman bungalow style, Ford has plans for a few major changes: First, she says, "We're going to get the porch back!" The home's original porch was closed in at some point in its history—"People wanted more living space and square footage," Ford points out, "but with how we're playing with the layout we are able to create a better use of space and more light."—and opening it up will go a long way to returning the feel of the original. Says Ford: "That will be my first sledgehammer!"
Also on the agenda: Raising rafters in the second floor and adding a home office space above the garage. Ford will work with Pittsburgh-based Williamson Construction, which has been a partner for much of her TV work. "That's a perk of doing this in a town we know well," Ford says.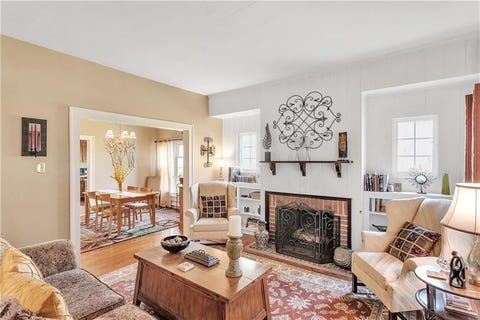 Coldwell Banker Real Estate Services
Expect many more surprises (and relatable design decisions) along the way, too: "For me the cottage style is always my most fun to play with," Ford muses. "It's all about budget-friendly solutions and how you can play with what you've got."
And for one lucky buyer (the home listing will be shared at the final reveal), "what you've got" will be this very house—which we have faith will be downright magical.
As Ford summarizes: "I want it to feel like this dream cottage that makes your heart go pitter-patter."
Stay tuned for more from Leanne's flip over the next three months on House Beautiful.
Follow House Beautiful on Instagram.
Hadley Keller
Digital Director
Hadley Keller is a writer and editor based in New York, covering design, interiors, and culture.
This content is created and maintained by a third party, and imported onto this page to help users provide their email addresses. You may be able to find more information about this and similar content at piano.io