The San Francisco Museum of Modern Art's exhibition on abstract painter Joan Mitchell, "Joan Mitchell," opens Saturday, September 4th. Photo: Photo by Robert Freson, Joan Mitchell Foundation Archives. © Joan Mitchell Foundation
When curators Sarah Roberts and Katy Siegel began putting together an exhibition as extensive as "Joan Mitchell," the 80-piece survey of the revered abstract painter's oeuvre, which was on Saturday, September 4th, at the San Francisco Museum of Modern Art is opened, you were aware from the beginning of your research that art historical research has all too often defined an artist by the ups and downs that she has experienced outside the studio – through her loves and losses, family dramas and breakdowns – despite the Scope of their artistic achievements.
"The lives of women artists are often sensationalized and turned into a clapping soap opera," said Roberts, SFMOMA's chief curator for painting and sculpture, instead of being viewed as secondary to the quality of the work itself.
While Mitchell's life (1925-92) was full of intriguing details – a privileged Chicago girlhood full of nineteenth-century poetry and art; national competition as a young ice skater; numerous tumultuous relationships with fellow artistes, including Samuel Beckett – Mitchell himself never bothered about labels about their gender or lifestyle. She resented being associated with the Abstract Expressionists, despite being the rare artist who managed to find success in the male-dominated art circles of New York in the 1950s.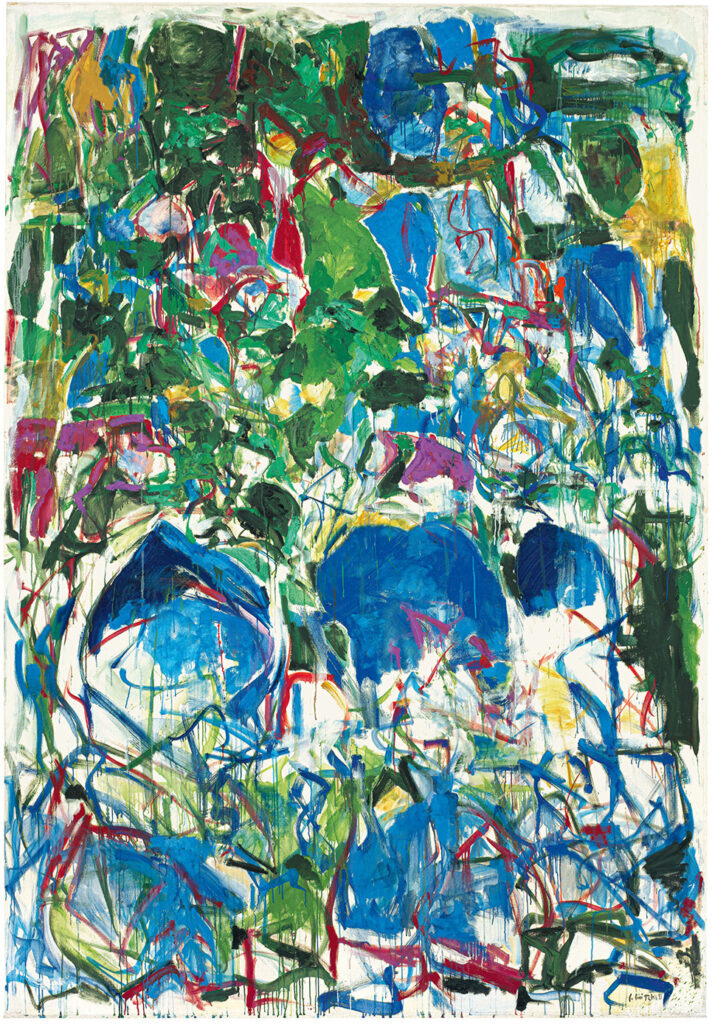 Joan Mitchell's abstract landscapes – such as "My Landscape II", 1967 – showed what a place felt like to her. Photo: Smithsonian American Art Museum, Washington, DC, Gift of Mr. and Mrs. David K. Anderson, Martha Jackson Memorial Collection; © Estate of JoanMitchell
During the four decades she spent in France after settling there in 1959, Mitchell created her most distinctive abstract paintings at home in the village of Vétheuil near Monet's Giverny Gardens. She relied mainly on landscape and memory, keeping her love of painting herself central.
Roberts and Siegel, a senior curator at the Baltimore Museum of Art (where "Joan Mitchell" is traveling in March) wanted the SFMOMA exhibit to "put work first," said Roberts, "to provide a more complex portrait of her convey as artist and person "than was possible during Mitchell's lifetime. (Mitchell died of lung cancer at the age of 66.)
Roberts was surprised and motivated by the realization that "Mitchell had never had a full scientific project," also because the Whitney Museum of American Art retrospective was being organized in 2002 while the Mitchell estate was still being settled.
Joan Mitchell's "Bracket" is a multi-part painting from 1989. Photo: The Doris and Donald Fisher Collection at the San Francisco Museum of Modern Art; © Joan Mitchell estate; Photo: Katherine Du Tiel
Siegel and Roberts spent three years studying Mitchell's remarkable oeuvre of bold, inventively colored, immersive canvases (some up to 10 feet in size) produced on two continents over five decades. The resulting exhibition – and the richly illustrated, 374-page catalog – presents a convincing re-examination of Mitchell's career and its importance for post-war painting on both sides of the Atlantic.
SFMOMA's showcase includes several from the museum's own holdings, including her stunning 1989 multi-part painting "Bracket" from the museum's Doris and Donald Fisher Collection and "Sans Neige," which has been restored after being in the Carnegie Museum in Pittsburgh had been hiding art for 40 years.
After four decades of storage, Joan Mitchell's "Sans Neige" has been restored and is on display in the "Joan Mitchell" exhibition at the San Francisco Museum of Modern Art. Photo: Carnegie Museum of Art, Pittsburgh, Gift of the Hillman Foundation; © Estate of Joan Mitchell
"We saw hundreds of her paintings and stopped counting around 500," said Roberts, adding that they also interviewed 100 people who knew the artist. "We recognized early on that the commitment to painting was already there at a young age. Art has always been the focus of her life. We decided to include the biography because it appears in the work. "
Mitchell's emotional reactions to her surroundings can be seen on the canvases, the fascinating views she saw from her windows – whether over Lake Michigan, New York's East Village, Paris or Vétheuil. The landscapes are not representational, but Mitchell tried to convey a semblance of her feelings in certain places, for example a weathered cypress on a wall (in her massive "Girolata Triptych") or to suggest the curving river Seine ("Sans Neige") ) through a bold use of color, scale, and texture. Mitchell admitted she could never reflect nature, and neither was her ambition.
Joan Mitchell had a studio in Vétheuil, France. This piece "Vétheuil" from the late 1960s is named after this place. Photo: private collection, New York; © Joan Mitchell estate; Photo: Brian Buckley
"My pictures echo a feeling of Lake Michigan or fields or water. It's more like a poem, you know? "It can be heard on the SFMOMA's recorded audio tour of the exhibition.
"People are so comfortable with French Impressionism, and these paintings aren't realistic landscapes either," noted Roberts. "They also aim to capture an essence of the season or the time or the light. Mitchell lets go of these representational aspects even more. "
Roberts recalled her initial inspiration for the Mitchell retrospective as an encounter with an untitled painting from 1961 about eight years ago at the Modern Art Museum of Fort Worth. The canvas that can now be seen in San Francisco is overflowing with paint, deep scribbles break out of its center.
"It stopped me," said Roberts. "The color surprised me the most. It kind of goes to the edge of the ugly, flooded with lavender and pink and a scatological brown. It's very large at 118 "by 78", and I had never seen anything on this scale with such a combination of freedom, ambition, and risk taking with color. It is a very courageous painting. "
Joan Mitchell in her studio in Paris in 1956. Photo: Photo: Loomis Dean / The LIFE Picture Collection / Shutterstock / Loomis Dean / The LIFE Picture Col.
What stood out most to Mitchell during her studies was "the complexity of her personality," continued Roberts.
"She was very different people in many ways. She was very moody, and the archives show how complicated she was. We really wanted to point out in the exhibition and in the catalog that it doesn't flatten it, that it lets it be so complicated. "
"Joan Mitchell": Paintings, drawings and a selection of letters and photographs by the artist. 10 a.m. – 5 p.m. Friday-Monday; Thursday 1 p.m. – 8 p.m. Closed Tuesday and Wednesday. Sept.-4.Jan. 17. San Francisco Museum of Modern Art, 151 Third St., SF 415-357-4000. www.sfmoma.org