When it's crunch time in Pittsburgh, and it's all freezing cold and snowy down by the river, and people are on the edge of their seats waiting to see what's gonna happen, and then, all of a sudden … that giant scoreboard at Heinz Field flickers off and goes pitch black?
Mannnnnnn, lemme tell you.…
There's nothing like it in all of sports.
Nothing.
Nothing can match that feeling. The intensity of it.
It always happens at a big moment — you need a turnover, or a big sack, whatever it may be. You look up and see that screen go dark, and….
The goose bumps start right then.
Your body starts tingling. Just from that blank screen. That's literally all it takes. Because your body … it knows what that black scoreboard means. It knows what's coming. 
You look at whoever's next to you, and they look at you, and both of you just have this look like … Oh, it's onnnnn now!
Then, a few seconds later … I mean, I don't even know how to describe it really. It's just….
One word.
Renegade.
Your body starts tingling. Just from that blank screen. That's literally all it takes.
– Bud Dupree
That's all that needs to be said. Nothing more.
Renegade.
And you know what? I'm sure at this point some people out there reading this are like … What? What's that? What in the hell is this dude talking about?
Well, y'all can click on out of this article now. You can go read something else on your phone right now.
This isn't for you.
This is for Steelers fans. The hard-core, ride-or-die fans. The people who know all about Renegade. The ones who have experienced those goose bumps — either in person at Heinz or on YouTube — and who know exactly what that moment can do for a team, a crowd, for an entire city, really.
This tribute right here is for Steeler Nation.
Rick Stewart/Getty Images
The music actually starts off real slow at first, and everyone in the stadium who isn't already standing rises up. Terrible towels are going hard. The scoreboard is showing our defense just absolutely putting the hurt on quarterbacks. All in slow motion.
You hear that opening line of the song….
"Oh Mama, I'm in fear for my life from the long arm of the law…."
The guy is singing all quiet to begin. But then, there's this heartbeat sound that comes in and just sets it all the way off.
BOOM … boom, boom.
It's a loud heartbeat, too. Loud and proud. Just like the city.
BOOM … boom, boom.
On the jumbotron, you got big hit after big hit being shown. It's me, Cam, T.J., all the guys just layin' some wood. Then there's this loud scream in the song, and pretty much everyone in that stadium — players, fans, coaches, everyone — just goes absolutely nuts.
It's craaaaaaaaazy!
It's an adrenaline rush like nothing else I've ever felt before — goose bumps, man, just straight goose bumps.
And more often than not that sh*t works, too. They play "Renegade," people go nuts, and then big things happen for the Pittsburgh Steelers. That's just how it goes. (Don't even get me started about those Double Renegade games.) It's legendary, man. I've never had more fun on a football field in my life. It's just absolutely special.
There's so much I'm going to miss about this amazing city, and the people of Pittsburgh, but make no mistake about it: That experience, that Renegade Moment, that's right up there.
It's Pittsburgh through and through. I love everything about it.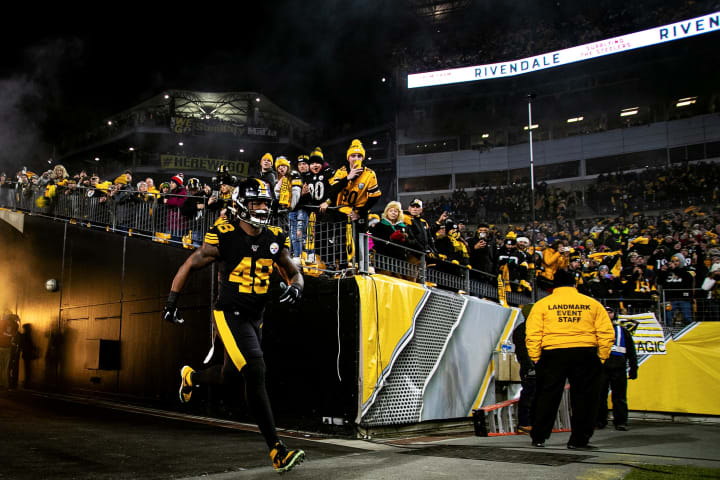 Mark Alberti/Icon Sportswire via Getty Images
When I look back on my time in Pittsburgh, the crazy thing to me is that, early on, when I first got drafted, I didn't know anything about this town. Growing up in Georgia, and going to school in Kentucky, I was clueless about Pittsburgh. I knew about the legends who played there — Jerome, Hines Ward, and I obviously knew about Ben — but beyond that it was like, "Pittsburgh? Where's Pittsburgh?"
So when a 412 number popped up on my cell on draft day, it was just like any other number that I didn't have in my phone.
I had no idea what that 412 was all about. Like what it actually meant.
But, man, did I ever find out quick.
Before long, I had guys like Cam Heyward and Will Gay and James Harrison and Coach Porter pull me aside and break it down for me.
It was like, "Some other teams may do things their way, but our way, the Steeler way … it has history behind it. And there's no other way around here."
It was all about working hard and doing things that basically reflected the city, and the people of Pittsburgh. It wasn't anything super complicated or some secret strategy. It was just basically….
Pittsburgh.
But in the form of football players.
Hard work. Blue collar. Shut up and do your job. Look after your teammates. Be accountable. Uphold the standard. Rinse and repeat.
In some ways it was like, The secret is … there is no secret. Step up. Earn respect. Put in work. Carry on the tradition.
And hearing that stuff? Coming from those guys? I mean….
That mind-state was immediately embedded in my brain. 
The secret is … there is no secret. Step up. Earn respect. Put in work. Carry on the tradition.
– Bud Dupree
From there, I just tried to learn as much as possible about the team and the city, and to just soak up all the history that goes along with the Pittsburgh Steelers.
As a rookie, to be honest with you, I was even blown away by meeting Ben, and being around him and Coach Tomlin and Cam, and just all the other guys on that defense. But then to be at the facility and see all the legends roll through, day in and day out?
Was that Mel Blount who just walked by?
Did I just see Franco Harris in the parking lot?
It was incredible, and it really did make me feel like I was part of something special. At the same time, off the field, I loved being able to dig in and learn about the real roots of the city of Pittsburgh. I tried to get a sense of the real culture of the town and the foundation of what makes Pittsburgh unique. 
More than anything, it was the people I fell in love with. And I definitely felt that love in return.
Those first few seasons in town, I mean, I'm not gonna lie … it didn't go how any of us had hoped. It almost felt like I was brought in to save the pass rush, but then I dealt with some injuries and just … I guess it took a bit of time for everyone to get on the same page. But through those struggles, any time naysayers would pop up or people would be on talk radio cussing me out, there were always just tons of other Steeler fans out there lifting me up and letting me know they had my back.
That meant the world to me. And it was part of the reason why I never doubted myself and knew that I'd eventually be special for the Black and Gold. Even during the toughest moments, I always kept my head high and my chest out.
Just like the people from the town I played for.
That mindset has always been in me — that confidence and belief in myself has always been a part of who I am. But you all, Pittsburgh, you really helped me to fully understand that it's not about what we do in good times, it's about how we respond when adversity strikes. That's what defines us. When bad times happen, how do you dig deep and regroup? That's what counts most.
And if any town knows that, it's Pittsburgh. So it really was a perfect fit. Peter Diana/Pittsburgh Post-Gazette via AP
Of course, moving on from something so special is never easy, and at this point I'm definitely coming to grips with everything I'm gonna miss about being a Pittsburgh Steeler.
No more "Renegade"? No more Steelers-Ravens games? I mean, that alone right there is a lot to lose out on. But it's also gonna be super tough moving on from such an incredible group of teammates. That Steelers defense, I mean … there are just so many amazing players and people who I've played alongside over the years — Cam, Will, Stephon Tuitt, Tyson Alualu, Joe Haden, Steve Nelson, Minkah, and on and on. I love all those dudes, and I have the utmost respect for them because they always worked so hard to make sure we all got better each and every day. They're true professionals, and they're all great people.
Then there's Coach T.
And that guy, I mean … you want to talk about a truly great person. This is someone who is so much more than a coach. He's a leader and a father figure for every guy in that locker room. I know words like that are thrown around a lot these days, but with Coach T, it's really, really true. His thing is … he's not just about football this and football that, he's always sharing with us ways for us to be better men, better human beings. And he wants to know how our lives are going, how our kids are doing. It's like….
"How are your parents?"
"How are the people in your neighborhood hanging in?"
This is a guy who, at my pro day back in Kentucky, I had like 20 people from my family there, and Coach was there to scout me, and to this day, he still asks me about each and every one of them. Like he remembers all of those people individually. Seven years later he's still asking me how they're doing.
He's just as solid as they come — honest, transparent, accountable, tells it like it is, and never lies about anything.
How can I not miss a guy like that?
The Coach T's of the world, the Cameron Heywards, the T.J. Watts. These guys aren't dime-a-dozen-type dudes. They broke the mold when they made all those guys, and it'll be tough not being on their side anymore. I think most of all, though, I'm gonna miss all those Steeler fans.
I mean, for real, Steeler fans … I'm gonna miss y'all.
Because you guys, you're craaaaaaaazy.
I've never seen fans as loyal and devoted as Pittsburgh Steeler fans. And when I say that, let me be clear about something: It's not only Pittsburgh people. It's not just the people who show up at Heinz Field on Sundays and go wild. It's soooooo much bigger than that.
It's all the people who come out to see us play on the road, or who tune into games from all around the country — actually, no, all around the entire world, because Steeler Nation really is a global thing, it doesn't have any boundaries.
I've never seen fans as loyal and devoted as Pittsburgh Steeler fans.
– Bud Dupree
A few years ago we ran a football camp in Mexico City, and I've never seen crowds like that in my life. They sold out every event, and Steelers fans down there were going nuts. It's the same for when we're over in Europe. When I go on vacation, I'm walking on the beach in Cabo with my hat pulled way down and I have Steeler fans still recognizing me and showing me love and talking about Pittsburgh. 
And, of course, back in the States, everyone knows that Steelers fans travel to road games like no other fan base in the league. Y'all see the Terrible Towels in those places. You know what I'm talking about. I mean, we played the Chargers on the road twice during my time as a Steeler, once in San Diego and once in L.A. Both times the stadium was basically all Steeler fans.
That sort of thing, it never gets old. And it's something I never took for granted. Now, at the same time, don't get me wrong here: I'm super excited to be joining the Titans, and to be playing for the fans in Tennessee and building those bonds and adding my talents to what is already a team that has a winning culture. My ACL rehab is going great. I'm already running on it, and I can feel the explosiveness coming back. So I couldn't be more excited to be out there ballin' out with my new team.
That's not even a question.
I'm looking to be better than ever for the Titans, and to bring the Lombardi Trophy to Tennessee.
But, on the real, straight up … am I gonna miss Steeler fans?
Hell yeah I'm gonna miss them! I can't lie about that.
Steeler fans are special. That whole entire city is special. 
And you know what? It actually turns out that I'm gonna be seeing y'all again real soon. Because next season, get this, date TBD, but it's right there on the schedule….
Steelers vs. Titans at Heinz Field. 
Wow.
Just thinking about that right now as I write this … that's gonna be a moment. It's gonna be emotional for me, for sure.
And I'm not gonna lie, it's definitely going to be weird to see that scoreboard go black at some point late in the game and to hear that heartbeat and that scream and … not be wearing black and gold.
That's definitely gonna be strange. It'll be super weird.
But y'all know me … you know it ain't gonna stop me from coming after Ben with everything I've got. All out. Not holding anything back.
That's just how we do, Pittsburgh.